James C Harrold opens the exhibition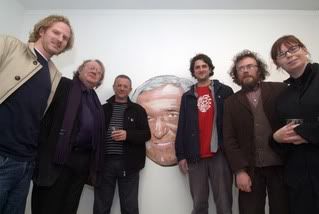 From Left To Right: Ben (G126), James C Harrold (Galway City Council), Timothy Emlyn Jones (Burren College of Art), Jim Ricks, Austin (G126), Eileen (G126).
G126 Presents:
Jim Ricks Woz 'Ere
New work by Jim Ricks
January 13th – February 5th 2007
Jim Ricks' show is comprised of several elements themed around interpretations of identity and ideology in Ireland. Instead of making a single issue piece, he deals with the complexities of Irish society through several simultaneous explorations. The show revolves around the core concept of a what is 'true' in contemporary Irish society vis-à-vis what is 'manufactured' and marketable. Ricks also plays with both the historical definitions and the contemporary revisions of everyday signifiers. The show promises to be playful, demanding and consciously cluttered.