THE SURPRISEPAINTINGSHOW.
8th of June till the 7th of July 2007.
SEVEN COMMITTEE MEMBERS CHOOSE SEVEN PAINTERS TO SHOW IN ONE SPACE.
G126 Galway's artist run gallery space prepared a show with a difference. Artists Aideen Barry, Niall Moore, Ben Geoghegan, Sharon O'Grady, Eileen Healy, Megs Morley and Jim Ricks make up a committee of seven, each committee member will curate an artist who works within the media of painting. The artist and work will remain a surprise to the other committee members and the public until the grand unveiling on the 7th of June at 7pm.
Gallery opens from 12 to 5pm Friday and Saturday.
Funded by both City and County Councils.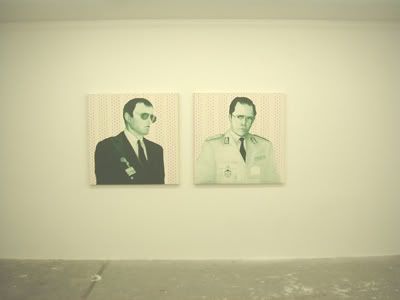 G126 Announces the Surprise Painting Show Artists were:
Felicity Clear (IRL)
Alice Maher (IRL)
Christoph Kronke (GER)
John Brady (IRL)
Patrick Rios (USA)
Sean Lyons (USA)
Brendan Flaherty (IRL)